CONDUCTION COOLED CAPACITOR CCC0.33uF
CONDUCTION COOLED CAPACITOR CCC0.33uF
MAKE – AID
FEATURE
Conduction cooled
Polypropylene dielectric
Self-healing
Operating frequency up to 700KHz
Stray inductance<3nH
Test Voltage 4000VDC 2Sec.
High stability
Inductive
SPECIFICATION AND DIMENSION
| | |
| --- | --- |
| Dimensions(mm) | 80mm x 80mm x 36mm |
| Capacitance | 0.1、0.2、0.33、0.5、0.66、0.7、0.75、1.2、2.5、5.0、10 |
| Max. voltage | 300、400、500、600、700Vrms |
| Max. intensity | 600A |
| Max. power | 300Kvar |
| Frequency limit | 700KHZ |
TYPE
Unit
CCC 300-S
CAPACITANCE
μF
0.1、0.2
0.33、0.5、0.66、0.7
1.0、1.2、1.3
2.5
5
Max. Voltage
Vrms
1000
700
600
500
400
MaX. Current
Arms
400
500
650
650
800
Peak Voltage
V
1410
990
850
710
570
Max. Power
KVar
150
TYPE
Unit
CCC 300-S
CAPACITANCE
μF
0.1、0.2
0.7
1.2
2.5
5
Max. Voltage
Vrms
1000
700
600
500
400
MaX. Current
Arms
400
500
650
650
800
Peak Voltage
V
1410
990
850
710
570
Max. Power
KVar
150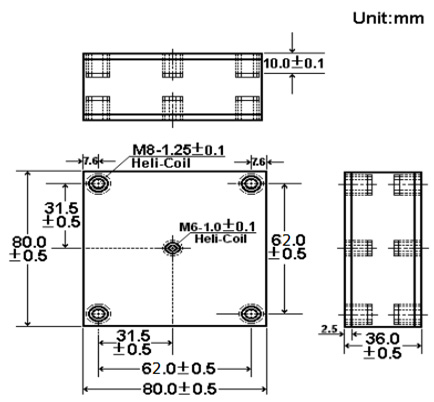 REGARDING OUR PRODUCTION:CCC-300-S
(Conduction Cooled Capacitor-300)
It often used in Mos- Fet, High Frequency Welders Machines and also used in higher current.
There is most important advantage in CCC-300-S,
Because the face of capacitor can dissipate heat for capacitor, and let the capacitor can continuous work in big current situation.
Now we are the only source that can supply this capacitor with high stability
We have the most professional skill and abundant experience to produce CCC in Taiwan.